Olympic Stadium Munich
The detail of the roof on the Olympic Stadium in Munich
In 1972 the Olympic Games took place in Munich. For these games they built the Olympia Park with stadiums, a lake, and a little hill. Since then the park has been open for the public and it's worth a walk with the camera. Even from the hill you have a view over the whole city and - with good weather - the Alps in the backupground.
This particular view is the detail of the roof on the main stadium.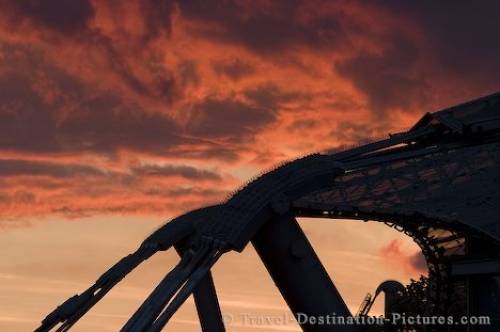 Picture of sunset lit cloudy sky over the roof of the Olympic Stadium of Munich, Germany.
Photos from "Sunset"
= click to scroll forwards/backwards
Related travel ideas: Olympic Stadium Munich
Title
Olympic Stadium Munich
The detail of the roof on the Olympic Stadium in Munich
Photographer
Stock photo ID
sbt-2006-06-07-007 - Olympic Stadium Munich
Camera Model
Exposure time
1/250
Aperture
f/3.5
ISO
100
Focus lenght
145mm